2011 Mercedes-Benz CL-Class Introduction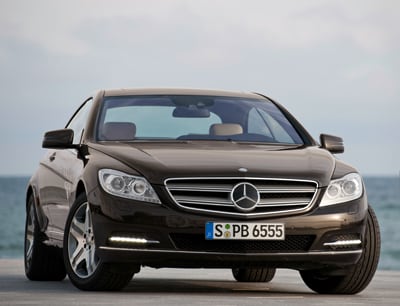 The Mercedes-Benz CL-Class has been an expensive and exclusive coupe since the 1950s. The CL-Class has evolved with the times, but the fundamental mission of these coupes remains the same: High-performance and maximum luxury in a gloriously stylish package.
As with all of its predecessors since 1958, there is no central B-pillar aft of the doors to break the sleek lines of the body. With the windows down, the look is sexy and the view out is panoramic, recalling cars of the Fifties and Sixties when hardtops were in vogue.
Today's CL-Class is much larger than its ancestors. The big Mercedes coupes of the '50s, '60s, and '70s were compact compared to contemporary U.S. cars, and were powered by relatively small-displacement engines. Heavier than an S-Class sedan, the current CL-Class qualifies as truly big, in size and weight, and in power.
The CL-Class does remain exclusive, however. For Mercedes-Benz in North America only the G-Class four-wheel drive and two-seat SLS AMG sell in smaller quantities; annual CL-Class sales equal Ford pickup sales for one day. That degree of distinction is alluring to CL-Class buyers.
The 2011 Mercedes-Benz CL-Class has new front-end styling and added electronic driving aids but the biggest change is under the hood.
The 2011 Mercedes-Benz CL550 4MATIC has a new twin-turbo V8, smaller than last year's but with better economy and 30 percent more torque. For 2011, power is up by 47 horsepower and 125 pound-feet of torque over last year. It also rates better fuel economy numbers on the order of 5-8 percent. The CL550 comes standard with all-wheel drive and an air suspension.
The rest of the CL-Class uses coil spring suspension and rear-wheel drive. The rear-wheel-drive CL600, CL63 AMG, and CL65 AMG feel more enthusiastic on winding roads, but the all-wheel-drive CL550 rides the smoothest thanks to its air suspension and lighter weight.
The 2011 Mercedes-Benz CL63 AMG comes with a twin-turbocharged 5.5-liter V8 engine, which replaces the previous 6.2-liter V8. The new engine delivers more power while using less fuel use and it comes coupled to a more advanced 7-speed automatic transmission.
Beyond those are the electric-smooth twin-turbo V12 engines: the ridiculously powerful CL600 with its 510-hp 5.5-liter V12 and the preposterously powerful CL65 with its 621-hp 6-liter V12. Your friends with race cars will be jealous because you'll have the faster car.
Like its predecessors, the current Mercedes CL-Class manages to be sporty without being a true sports car. Securing the right exterior proportions meant making the CL-Class shorter than the S-Class, upon which it is based. This produces a close-coupled, intimate interior, the kind historically associated with coupes from time immemorial. We'd call the rear passenger area moderate for adults, though similar luxury 2+2 coupes (Aston Martin DB9, BMW M6, Bentley Continental, Ferrari 612) are more cramped. The CL-Class is for being one or two people or the occasional evening quartet. If you want roominess in a big Mercedes, buy an S-Class sedan. This car is about grand touring for two.
The cabin is sumptuous and inviting, dressed in the finest materials and tailored to perfection. Fine woods, supple leather, brushed aluminum and designer-quality knobs and switches are everywhere you look and touch. The standard equipment list bulges with luxury items no one really needs but almost anyone would love to have, from harman/kardon 600-watt, 11-speaker audio to soft ambient mood lighting. Through the Mercedes COMAND central computer interface, many dozens of settings for seats, climate, sound, lighting, navigation and much more can be customized to your preferences.
The CL-Class offers a breathtaking array of safety technology as standard equipment: Nine airbags, dynamic stability control, traction control, anti-lock brakes, automatic brake drying, seatbelt pre-tensioners, and automatic window closers, to name just a few.
In short, the CL-Class is ultra-luxurious, sexy, technologically advanced and very stylish with excellent all-around driving capabilities. It's roomier than a sports car but tighter than a sedan. We think the CL-Class will be extremely appealing to a relative few drivers who fall in love with the luxury of stylish lines, spa-level coddling and over-the-top power.