2011 Mercedes-Benz GLK-Class Introduction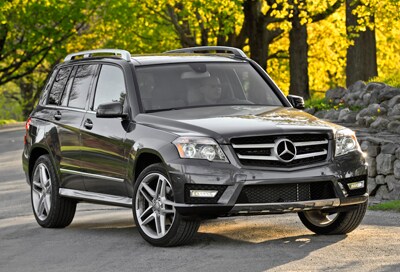 The Mercedes-Benz GLK is a compact crossover SUV, with looks reminiscent of the larger Mercedes-Benz GL-Class. The GLK was launched as a 2010 model so the 2011 GLK carries over largely unchanged, though several important features are available.
The 2011 Mercedes-Benz GLK comes with new driver/passenger pelvic air bags and a driver's knee air bag. The steering wheel is covered in premium leather on the 2011 GLK. A new rearview camera reduces fisheye distortion and there's a new headlight control switch. A new AMG styling package bundles unique bumpers, aluminum roof rails, LED daytime running lamps and 20-inch wheels (no 500-hp engine, though).
The GLK seats five, offering two rows of seating, not three. The GLK offers nearly 55 cubic feet of cargo space with the rear seats folded down.
A compact sport-utility, the Mercedes-Benz GLK competes with the BMW X3, Audi Q5, Acura RDX, Infiniti EX, and Land Rover LR2. The Lexus RX is also a competitor, though the Lexus is longer and has more cargo space. The Mercedes-Benz GLK appeals to those who want some of the capabilities of an SUV in a less expensive, scaled-down package. It's relatively small, and easy to park.
The GLK comprises just two models, the GLK350 with rear-wheel drive and the GLK350 4MATIC with all-wheel drive. They are otherwise equipped identically.
The Mercedes-Benz GLK350 is powered by a 3.5-liter V6 engine that makes 268 horsepower at 6000 rpm, with 258 foot-pounds of torque available from 2400 to 4500 rpm. Mercedes-Benz officials claim the GLK350 can accelerate from 0-60 mph in just 6.5 seconds with a top speed of 143 mph.
Fuel economy is an EPA-estimated 16/23 miles per gallon, or 16/21 mpg for the 4MATIC.
We found the GLK drives more like a car than a truck, which makes sense, considering the car-based vehicle is built on the same platform as the C-Class compact sedan. The GLK accelerates quickly, cruises easily at high speeds and quietly soaks up bumps.
Off-road it performs admirably, better than most in this class, and the 4MATIC all-wheel-drive system keeps it going through mud and over rocks.