2011 Mercedes-Benz R-Class Introduction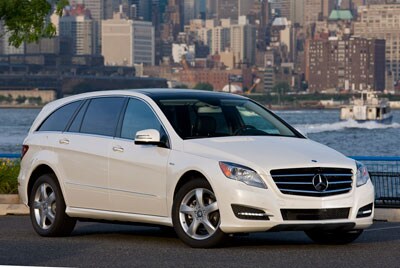 The refurbished and sportier 2011 Mercedes-Benz R-Class has been treated to a completely new look, with a new grille, hood, front fenders, bumpers, air inlets, and all front lamp units, using the Mercedes-Benz three-bar-and-star sports car grille in lieu of the former and smaller two-star-and-bar grille.
The hood is more steeply raked than the hood on the original. The bodysides have not had to be completely recontoured to fit with the new nose, so that it looks about the same from the sides, but the rear end also has been redone more crisply, with a new diffuser, new bumpers, exhaust tips, and LED fiber-optic taillamps.
The R-Class has had some difficulty finding buyers in the past because there is nothing else quite like it on the road (since the Chrysler Pacifica was cancelled). The R-Class has four hinged side doors, not sliding doors, and a hatch in back, so it's not a proper minivan. It has all wheel-drive, but it's not tall enough to be a called a real SUV, even though its off-road prowess is far better than most. And it's not shaped or sized like a Mercedes-Benz station wagon, either.
From its introduction, the company has referred to the R-Class as a sport-tourer, speced out for long-distance comfort, interior roominess, and, with that giant sunroof, a feeling of open space inside. Mercedes-Benz says that the R-Class is the roomiest vehicle in its entire passenger-car lineup for its overall size.
The R-Class is aimed to compete with the Cadillac SRX, Lincoln MKT, Buick Enclave and Audi Q7 in one of the U.S. market's fastest-growing market segments. The R-Class is sold in 90 markets around the world, with a mix of small V6 gasoline engines, diesels, and 5.5-liter V8 engines (which were once offered here but were canceled due to lack of interest and high gasoline prices).
The U.S. market demands larger engines and larger interiors than Europe does, so we get the gasoline V6 and turbodiesel V6 engines. Both come with the 7-speed overdrive automatic and 4MATIC all wheel-drive, using the long-wheelbase chassis. Where some other R-Class markets get a short-wheelbase model, a small 3.0-liter gasoline engine, and as few as four seats, we get only the larger configuration, with a buyer's choice of six seats in a 2-2-2 layout or seven seats in a 2-3-2 layout. The six-seat layout offers an optional second-row console.
The 5000-pound R-Class uses welded steel unibody construction with front and rear subframes to mount the steering and suspension systems, with almost half the body weight in high-strength low-alloy steel. This is standard Mercedes-Benz practice on almost everything they make, because it's lighter, stronger, easier to build and easier repair than traditional body-on-frame vehicles.
The engineers have paid huge amounts of attention and money when it comes to making the front and rear suspensions and the large tires work together for a ride quality that is both taut and plush, absorbent and resistive, so that the occupants are not bothered by road irregularities and can just sit back and enjoy the view.