2019 Mercedes-Benz GLA Walk Around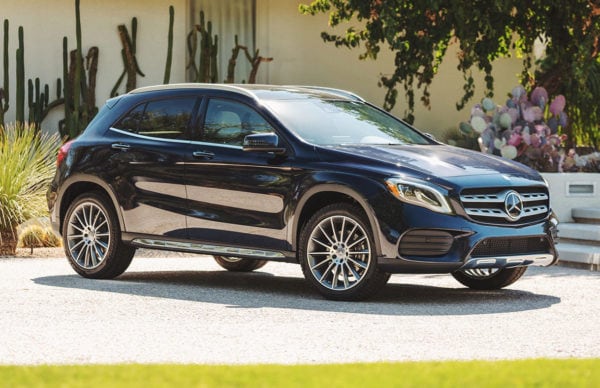 Bold styling of the GLA might suggest the toughness of a typical SUV; but being realistic, this crossover comes closer to the compact hatchback league. A taller suspension than the one employed in the CLA sedan boosts ride height a bit, and the hatchback body is a tad taller as well.
Overall, though, the GLA is more businesslike than burly. Proportions actually echo those of the Infiniti QX30, which shares a platform with the Mercedes-Benz GLA.
Sizable (18-inch) wheels help give the GLA some eye appeal. Below its relatively short roofline, steeply-angled roof pillars and a sculpted body helps enhance the visual attraction. Up front, the huge Mercedes-Benz three-pointed star emblem occupies almost one-third of the grille.
LED taillights also help boost its presence. LED headlights are optional for the GLA 250 but standard on the GLA 45.
Interior
Impressive as the GLA's exterior might be, its cabin falls short, with more plastic and thinner fabric than Mercedes owners will recognize. Leather upholstery is optional. So are trim pieces made of wood, aluminum, or carbon fiber.
Front seats are effectively supportive as well as comfortable. Despite being a trifle snug, they hold occupants securely, atop firm cushions, helped by thick side bolsters.
Back seats are bigger than those in the related Mercedes-Benz CLA sedan, but still cramped even for average-size passengers. Legroom is a larger concern than head clearance. The rear seats fold flat to create a bountiful cargo hold, expanding from 17 to 43.6 cubic feet.
Recaro sport seats in the AMG GLA 45 are simply marvelous, not only suited for spirited driving but comfortable during long-distance journeys.